Brothers' Day
Seasons
Season:
2
Production code:
210b
Story by:
Nick Confalone
Neal Dusedau
Meghan McCarthy
Tim McKeon
Disney Channel US premiere:
July 20, 2012
Chronology
Paired:
"Busy Bea: Rise of the Machines"
(production)
Itunes:
Adapt:
Arc:
Movie
{{{movie}}}
"
Ahh. Great!
"

— Bea in Detention
After seeing the Joe Brothers get into a huge fight, Milo gets nervous that one day that might happen to him and Oscar, so he creates a holiday dedicated to celebrating their friendship.
Episode Summary
This episode begins outside Freshwater High, where Milo, Oscar, and Bea see the Joe Brothers have a huge fight. They eventually break up, and Milo starts to worry that one day that might happen to him and Oscar. It is then that in Mr. Baldwin's classroom, Milo creates a holiday named "Brothers' Day" for tomorrow, when brothers can spend the whole day together. Mr. Baldwin gives Milo and Oscar the day off for tomorrow, before he gives Bea detention after hearing her idea on "National Headband Day", which disgusts him and also displeasing Bea.
The day of "Brothers' Day" arrives, and firstly, Oscar gives Milo cooked breakfast, and, as he prepares to clean the bathroom, he sees that Milo has already accomplished that. The two brothers do all sorts of things together, and it goes along great, until the moment Milo decides he should be doing more things for Oscar than Oscar doing things for Milo. He calls Bea at school, in the detention room, and tells her about his plan. Afterwards, Milo shows Oscar a big pile of old things. In order to avoid hurting Milo, he appreciated him.
Later, Milo gives Oscar a talking pancake, then later goes overboard, driving Oscar crazy. He goes to Bea for help, telling her all about Milo's crazy behavior and the gifts Oscar calls "awful". Oscar also tells Bea that he wants a "break" from Milo. Milo, the latter, overhears everything and rushes back home devastated. Bea tells Oscar to finally tell Milo how he feels before being given more detention by Mr. Baldwin.
Back at home, Oscar finds a misspelled note from Milo saying he is sorry for his crazy behavior to Oscar, and that he is leaving home to give Oscar the space he desires, as it is all Milo ever wanted. Oscar, beginning to feel like he is to blame himself, searches frantically for Milo, finally finding him at the bus station, but arrives too late for Milo is abording a bus already. After an unsuccessful attempt to catch up with Milo, Oscar feels extremely ashamed of himself and proceeds to sulk on a bench. Unknown to a weeping Oscar, Milo is seen hopping off the bus, and he approaches the bench, overhearing Oscar's confession of how he wants Milo back so he could let him know "what an amazing brother he was", to which Milo calls Oscar "amazing" also. Oscar, overjoyed to see Milo by his side, explains he thought Milo was gone forever. It was revealed that Milo was out selling some of his old items so he could save and use his earned money to buy himself a "Video Boy" so he could play on his own and not bother Oscar when he is playing.
In detention at school, Oscar and Milo go to Bea and tell her they want her to be their "brother". However, their celebration is cut short when Mr. Baldwin gives all three of them detention tomorrow.
Songs
Gallery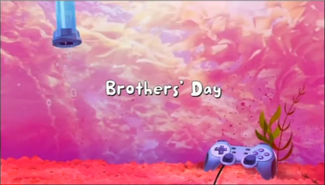 The image gallery for Brothers' Day may be viewed here.
Running Gags
Bud's Pets &...
Memorable Quotes
Example
: Please place the memorable quotes here
If there needs to be an explanation explaining anything during this Line, use these sups.

Name
: This is an example of a memorable quote.
Example
: For multiple memorable quotes please use multiple dialogue boxes
Name: This is an example of a memorable quote.

If there needs to be an explanation explaining anything during this Line, use these sups.
Example: One lined memorable quotes also use the dialogue template.
Background Information
Production Information
Errors
Continuity
Allusions
Catdog: The name of this episode is a parody of Catdog episode Brother's Day.
Jonas Brothers: Joe brothers (Headphone Joe and Bandanna Joe) is a parody of Jonas Brothers.
My Little Pony: Friendship is Magic: Brother Love is Magic song is a parody of "Friendship is Magic".
Cast
♦

designates a character that did not appear in this episode
References