Catapult Chaos



The opening menu for the game.

Levels:
24 + 5 bonus levels
Release date:
Autumn 2010
Playable characters:
Bea
Milo
Oscar
Clamantha
Usable objects:
Super Plunger
Collectable objects:
Super Plunger
Blue Sea Star
Red Sea Star
Locations:
Freshwater High

Catapult Chaos is the first "Fish Hooks" online game. The aim of the game is to free Freshwater High students from bubbles.
Description
Bea, Milo and Oscar discover that everyone in Freshwater High is stuck in a bubble. The three then try to save their friends by catapulting into their bubbles and freeing them. You have to choose which character to catapult and where the character catapults to and what the character will catapult into to free Bea, Milo and Oscar's friends. Bea, Milo, Oscar and Clamantha are all playable characters.
Gallery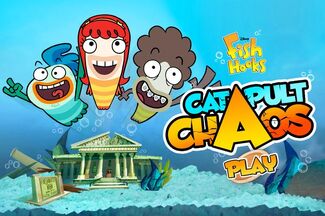 The image gallery for Catapult Chaos may be viewed here.
External links