Fish Prom
Seasons
Season:
2
Production code:
221
Disney Channel US premiere:
May 17, 2013
International debut:
November 13, 2012 (Disney Channel Asia) [1]
Chronology
Paired:
None
Itunes:
{{{iTunes}}}
Adapt:
{{{adapt}}}
Arc:
{{{arc}}}
Movie
{{{movie}}}
"
This is supposed to the most important night of our lives! And I won't let your memories go down this way. You will NOT go without a dance, milady!... Because I will give you that dance.
"

— Oscar
It's prom time at Freshwater High and the gang is ready to make the most out of the big night, but when things don't work out how she expected, Bea finds herself dancing with an unlikely suitor.
Episode Summary
In the beginning of the episode, Finberly sets up the stand for prom tickets, where every student ransacks it. Later, the boys have found their prom dates (Oscar will ask Angela, Albert asked Esmargot and Jumbo will go with a Swedish fish model), except Milo, who rushes to find one. Bea, also looking for a date, asks Steve Jackson, who accepts. Milo, desperate for a date, takes up an offer from Randy Pincherson, who needs him so he can take his guinea pig date who also needs a date for her sister. Oscar asks Angela to prom, who is not very interested. Despite this, she accepts to go.
On prom night, the boys and girls rendezvous at Bea's house. Milo meets his guinea pig date, while Randy takes her sister, who he thinks is better than Milo's. Jumbo introduces everyone to Anika, who is actually a robot. At her house, Bea makes an entrance, which amazes Oscar, until Steve shows up. Also, Angela shows up with an Headbox Extreme helmet, so she can occupy her time at prom.
At prom, Angela is completely distracted by her game, much to the annoyance of Oscar. Milo turns out to be bonding with his date very well, while Randy finds his boring. This causes him to constantly attempt to take her from Milo. Steve Jackson goes to get Bea punch and then finds a spillage on the floor. He goes to get cleaning supplies but is accidently locked inside of the cupboard by Finberly, leaving Bea alone and desperate to find him.
Sometime later. Bea is still looking for him. She runs into Dan and Ann, who make her dance with the, causing punch to be spilled all over her. Right after, Finberly announces the king and queen of prom, which Bea is hopeful for. Unfortunately for her, the winners are Milo and his guinea pig date (much to the chagrin of Randy, who is immediately rejected by his date). Afterwards. Oscar gets tired of Angela playing her game, so he shuts it off and asks her to dance with him. Angela is upset by this, but Oscar tells her there's more to life than video games, and accidently calls her Bea. This causes her to break up with Oscar and tell Bea she can have him.
Finberly then announces the slow dance, and everyone has a partner, except Bea and Oscar. Bea starts to cry and leaves to the Hokey Poke to drown her sorrow. Oscar sees this and follows her. Bea tells him that prom was supposed to be perfect, and the worst part being she never got her dance and starts to cry more. Not willing to let this night be a bad memory, Oscar offers to give Bea her dance. They both warm up to each other, and end up dancing. Bea thanks Oscar for the dance and kisses him. Oscar calls the prom the best ever.
After the prom ends, Angela almost throws away her helmet as the episode ends when Jumbo is dumped by Anika. He recognizes the helmet, and he and Angela fall in love. Breaking the fourth wall
End Credits
Snake and Mouse do not appear in the end credits, but they do while Oscar and Bea are dancing. Instead, Steve is still in the closet, until Clamantha pushes the chair cart out of the door's way, allowing Steve to get out, before Clamantha pushes him back in along with her.
Songs
Getting Ready

You're the Best Girlfriend in the World

(Hey There) Where Have You Been All My Life
Gallery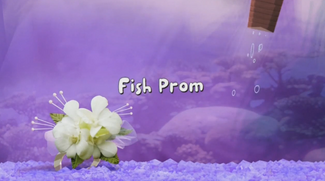 The image gallery for Fish Prom may be viewed here.
Running Gags
Bud's Pets &...
Background Information
This episode premiered on Disney Channel Asia (except Malaysia) on November 13, 2012. [2]
This episode premiered on Disney Channel Malaysia on December 8, 2012.
This episode premiered on Disney Channel USA on May 17th, 2013.[3]
This episode is the conclusion of the story arc centered around Oscar's relationship with Angela.
Production Information
Continuity
Errors
When the Girls sing, Esmargot has eye lashes and she doesnt have eyelashes
Allusions
Cast
References