Freshwater Bounce



The opening menu for the game.

Levels:
1
Release date:
Autumn 2010
Playable characters:
Bea
Milo
Oscar
Usable objects:
Power Plunger
Sea Sponge
Invincibility Bubble
Collectable objects:
Power Plunger
Blue Sea Star
Red Sea Star
Invincibility Bubble
Locations:
Freshwater High

Freshwater Bounce is the third "Fish Hooks" online game. The aim of the game is to jump from plank-to-plank and try to reach the top.
Description
At Freshwater High, it's the first day of track team try-outs. Coach Salmons tries to get the students to move their fins by getting them to participate in a jumping challenge. You have to choose which character to jump from planks of wood to reach the top. There are three types of wood, the blue-painted moving wood, the brown-painted easily-cracking wood, and ordinary wood. You must avoid Jocktopus and his fellow bullies from pushing you to the bottom. If you jump on a turquoise-coloured sponge or a buff wheel, you are travelled to a higher plank of wood. Bea, Milo and Oscar are playable characters.
Gallery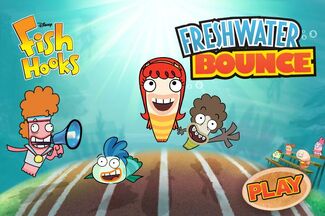 The image gallery for Freshwater Bounce may be viewed here.
External links