Mouse
Species:
Field Mouse
Gender:
Female
Age:
18
Friends and Family
Friends:
Snake
Mouse is a field mouse that appears in the episode credits. She is voiced by Vanessa Marshall.
Personal life
She enjoys watching the fish in the tanks, and is a little more short-tempered than her friend, Snake. Mouse and Snake always appear in the end credits, usually talking about what the episode is about such as pets, adulthood, football, and humor.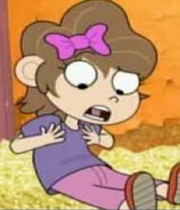 Trivia
Appearances
She has appeared in all of the credits (except for "Fish School Musical") so far, had a cameo at the beginning of "Hooray for Hamsterwood" when she jumped over Bud with a motorcycle, made a cameo at the cheer-off in We've Got Fish Spirit, and a cameo with Snake in Halloween Haul.