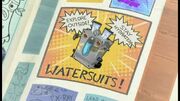 A Watersuit is a commonly used suit in the show allowing fish to go out of water still hydrated.
Background Information
The appearance of the watersuits were changed in "Baldwin the Super Fish". They were then smaller in size.
A big watersuit was used on a car in the game on the Fish Hooks website, "FishCoaster". It was also used with a similiar look in "Tank Bounce".
Strangely, despite being released after the episodes with the new look, the games used the old look of the watersuits (however a small change was in "Tank Bounce").
Appearances
Game Appearances